Stingray86
Joined on September 2019 (Amateur)
36 years old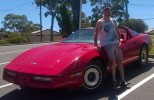 ---
Expertise

Dexterity and time managment during races, not much else!

Problems

Finding the best route / shortcut in a circuit I have always found difficult.

Background

I am a mechanic from Adelaide South Australia. Love Corvettes and pretty much all sports cars and muscle cars. I drive a C4 Corvette, just like the one in a certain DOS game I first played back in 1993 ;)

Comment

Theres not too many things that generated excitment like STUNTS did when I was a child.
Competition tracks created: